---
Christmas is less than a week away, which means, friends, that this is the final Week in Gaming you'll read/endure in 2014 – please weep/rejoice as appropriate.
There was probably a moment many years ago, around the time you first saw Back to the Future Part II, that you imagined what 2015 might look like. It was the year Marty McFly famously stepped on the hoverboard, and maybe you hoped we'd all be playing games with our minds and eating pills instead of meals.
Now take a look out the window. Disappointing, isn't it? Ours cars can't even fly.
---
Apple Pay is seeing impressive early adoption numbers according to a new ITG Investment Research Report on Mobile Payments (via
MarketWatch
), which suggests Apple's new payment service was responsible for a total of 1 percent of digital payment dollars during the month of November.
Apple still trails industry leaders like Square and PayPal, which captured 18 and 78 percent of digital payment dollars in November, respectively, but ITG analysts suggest Apple Pay is showing strong momentum given that it's available only to customers with the newest hardware and supported by a limited number of merchants.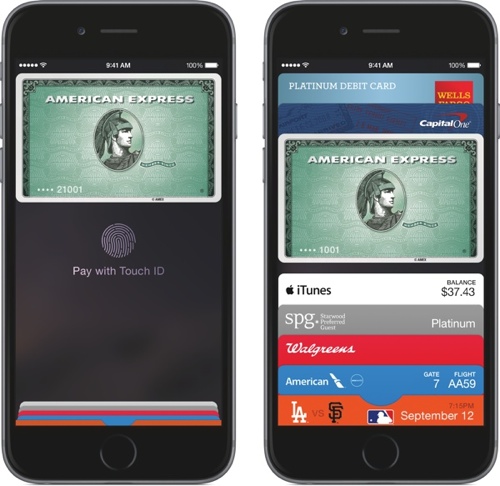 According to the report, which uses data from ITG's Investment Research consumer panel, 60 percent of new Apple Pay customers used the service on multiple days throughout November, averaging 1.4 use times per week. In comparison, only 20 percent of new PayPal customers used the service multiple times during the same time period.
Among customers who used Apple Pay, Whole Foods was the location where the service was used most, capturing 20 percent of all Apple Pay transactions. Walgreens came in second, with 19 percent of transactions, and McDonald's was third, with 11 percent of transactions. Whole Foods was also saw the highest spending, responsible for 28 percent of all Apple Pay dollars spent.
---
It's entirely possible this could be classified as an actual mental illness. But there's just something about the iPhone 6 Plus that draws me in about a week after I switch back to my iPhone 6. It goes something like this…
There's nothing wrong with the iPhone 6. It's the best smartphone not only in the world, but ever made. It's gorgeous, it's luxury-level premium, it's the phone Apple wishes they could have made 7 years ago — it is completely perfect. Though, as someone who has always bought the best available iPhone, it kind of hurts that there's one a bit better. Better is a relative term, obviously, but the screen on the iPhone 6 Plus is just perfection with its higher resolution display, and it's entirely noticeable to me. There's also optical image stabilization in the camera, though that's not the biggest deal as the regular iPhone's camera is a joy. You also get a bigger battery with the iPhone 6 Plus.
Continue reading…
---
'Tis the season of giving. NVIDIA CEO Jen-Hsun Huang and his wife Lori recently announced a $ 1 million donation to non-profit City Year. The Bill & Melinda Gates Foundation granted $ 500,000 to CARE in India. Napster founder and former Facebook President Sean Parker gave $ 24 million to Stanford to build an allergy research facility. 
Today, Microsoft joined that list by donating $ 2 million in software to NBC-sponsored charities. 

HP Stream 7 with Windows 8.1
---
It's just about time to close out another week, but not before bringing you another pre-holiday edition of HOT deals, direct from the folks at TechBargains. On the menu today, we have deals on the Dell UltraSharp U2412M 24″ 1920×1200 IPS display, Microsoft Office365 Home Premium, a Dell Inspiron 15 (3542) Core i3-based laptop and a whole lot more. Full details for all of the deal, with links and pricing, are available below…
Feature
---